MainEvent Features
Every feature of MainEvent was designed in collaboration with our agency and brand partners to serve their experiential marketing needs. And if you need a solution that manages your staff and payroll, MainEvent has that covered too.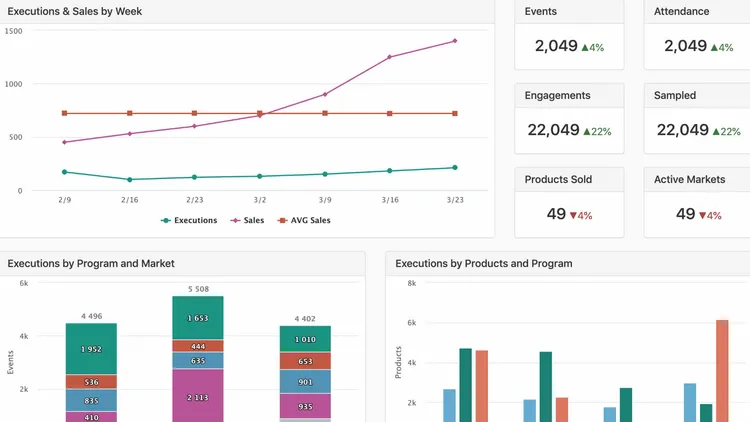 Dashboards
Customizable dashboards that are built using editable widgets, showcasing data through a variety of graphing tools.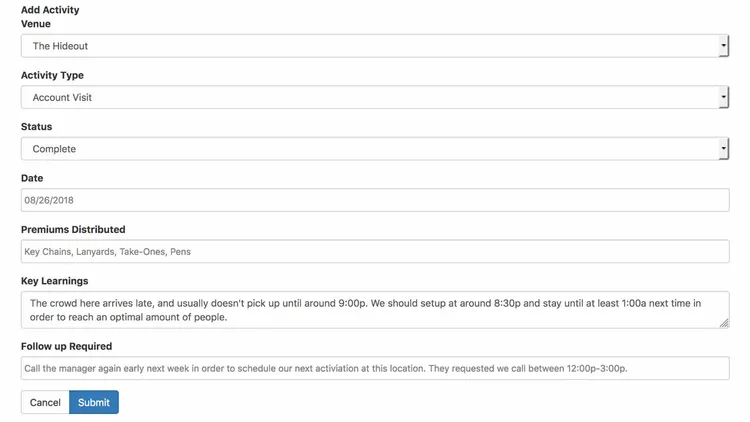 Activation Management
Comprehensive scheduling, recapping, and reporting for all events and executions.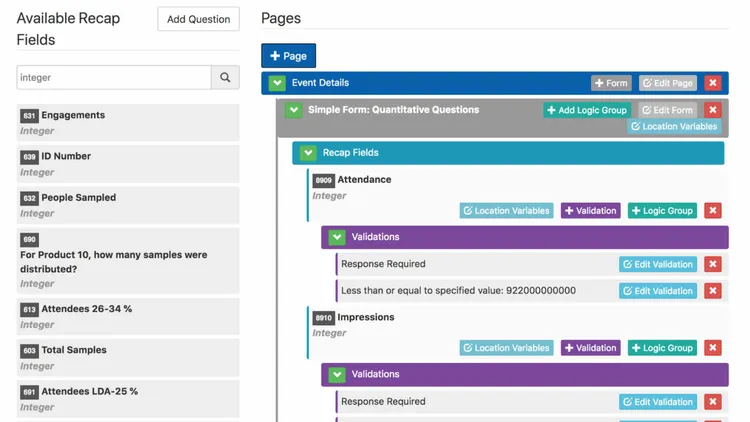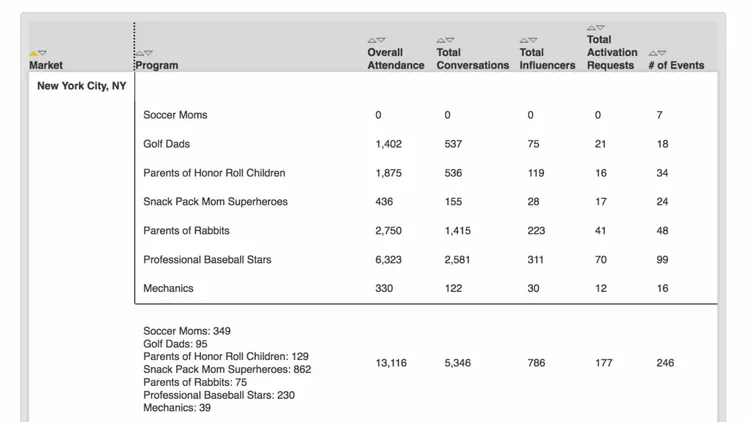 Reports
Pull every field stored in the database into custom-formatted reports, exporting the data into a variety of formats (Excel, CSV, web service).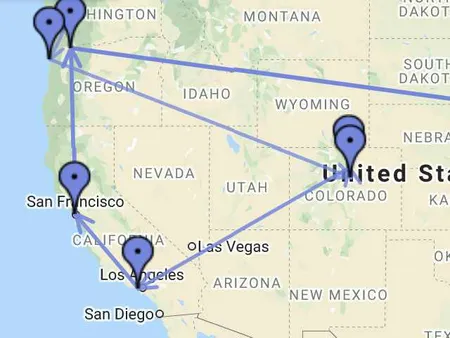 Asset Management
Manage, request, ship, track and evaluate physical assets for field activations.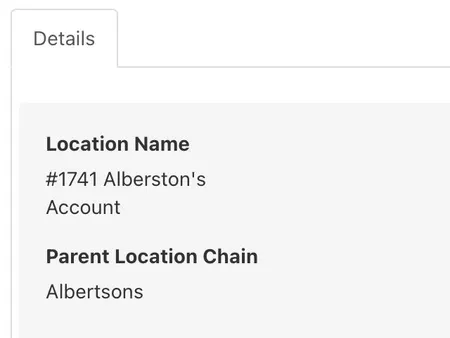 Account Management
Store all historical location data including contact information, sales, and associated events/activities.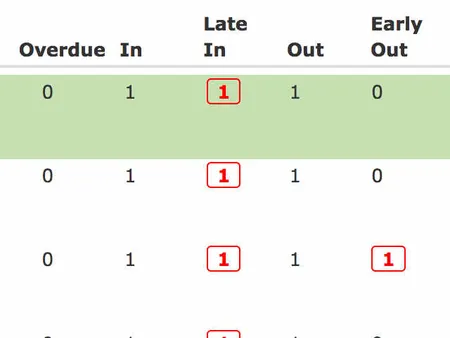 Check-Ins & Check-Outs
Capture geolocation and timestamp data from staff arrival check-ins and departure check-outs, all visible for managers on a dedicated page to review in real-time. Send text notifications to brand ambassadors that have not arrived at their location on time.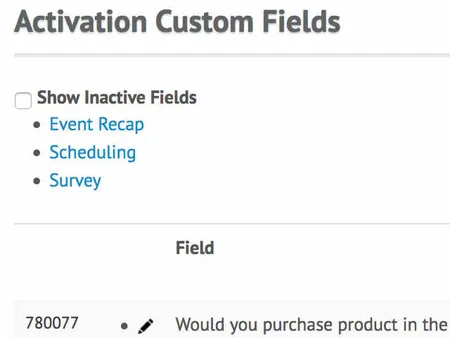 Consumer Data Collection
Configure and track your own account-specific custom data points such as sales entries, meetings, trainings, distributor rides, POS and menu placements, and any other important account-based information.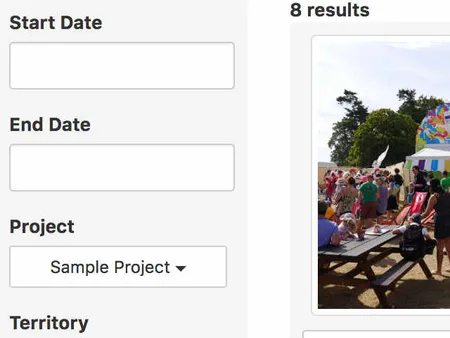 Media Management
An exportable repository of images and videos linked to events, activities, and accounts, sorted and filterable by date, location, and image description.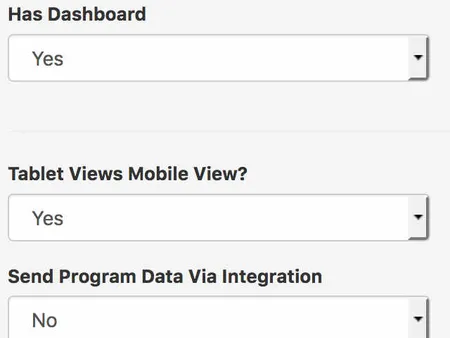 Program Management
Manage and toggle all aspects of programs and campaigns without any need for new custom development. Program configuration options include recap fields, goals, tasks, and document management.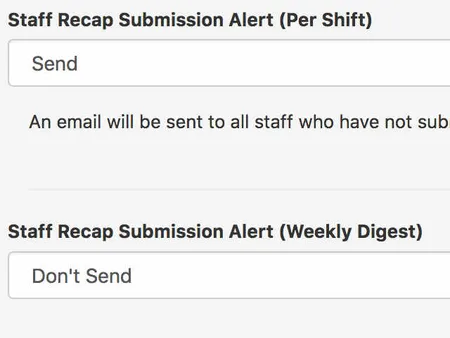 Reminders, Alerts, & SMS Messages
Automated emails and text messages can be toggled for all time-sensitive tasks, including alerts for incomplete recaps or time and expense submissions, and missing approvals.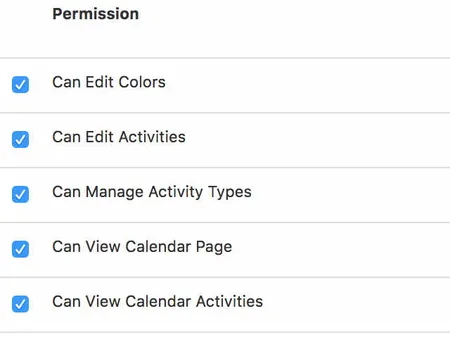 Role & Permission Management
Comprehensive customization of user roles and assignments that determine what actions can be performed and what data can be viewed by any user.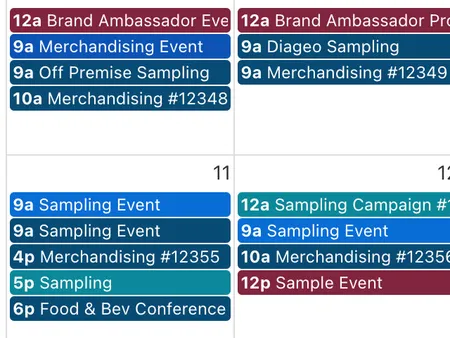 Weekly & Monthly Calendar
Display all scheduled and completed events, executions, and activities in a weekly or monthly calendar, exportable in Excel and PDF formats.
Agency Comparison Analytics
Track and compare the success of multiple agencies/departments utilizing real-time performance metrics and data, all collected in a single hub for easy, comprehensive analysis.
Branded Event PDFs
Calculate commissions based on the unique products or groups of products sold.
Commission Reporting
Calculate commissions based on the unique products or groups of products sold.
Custom Recap Analytics Report
Generate branded PDF reports using KPI calculations to detail the effectiveness of marketing strategies.
Data Collection API
For organizations that use 3rd party data collection providers, APIs are provided to standardize all data gathered within outside systems.
Document Center
Campaign-specific materials such as brand guidelines, expense forms, talking points, sales forms, and PR materials are stored in a centralized location for easy access and distribution.
Event Request & Approval
Programs such as mobile tours and spirit/beer campaigns that interface with sales/distributors can utilize an event request and approval process.
Goal Management
Track and manage goals for individuals or programs. Examples of goals include sales, samples distributed, engagements, and event allocations across different markets/regions.
Organization-Wide Analysis
Managing all programs though single enterprise solution provides leadership with visibility to high-level organizational insights that span across individual clients or brands.
Product Management
POS-focused programs can track and report on unique product sales results.
Route Optimization
Utilize field staff geolocations to determine proximity to venue addresses, facilitating efficient route optimization for brand ambassadors that call on multiple accounts.
Scheduling Imports
Upload program and campaign schedules using mass import tools with simple and straightforward templates.
Shipment Tracking
Track packages being delivered to events with built-in UPS, USPS, and FedEx integrations.
Surveys & Lead Collection
Create and distribute surveys for consumer lead collection associated with executions and accounts.
Staff Scheduling and Payroll
When it comes to staff onboarding, scheduling, and payroll, MainEvent has you covered, allowing you to keep all program management within a single system.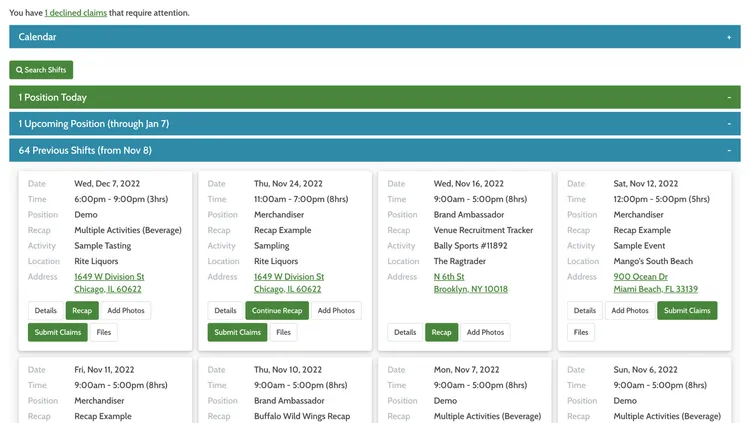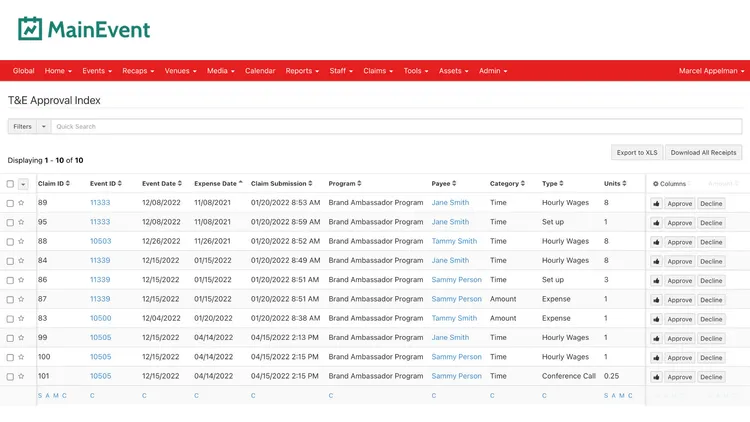 Time & Expense Tracking
Allow staff users to submit time and expense claims (both reimbursable and non-reimbursable) for each activation.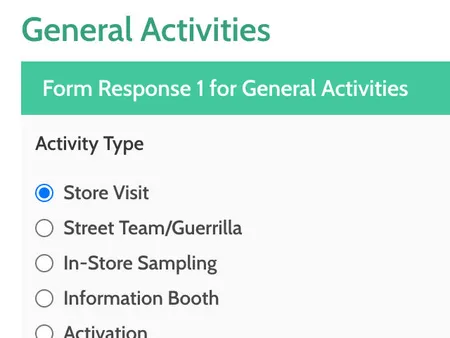 Activity Management
Manage account-focused brand ambassador programs using activity types such as account visits, staff trainings, new distributions, and menu placements.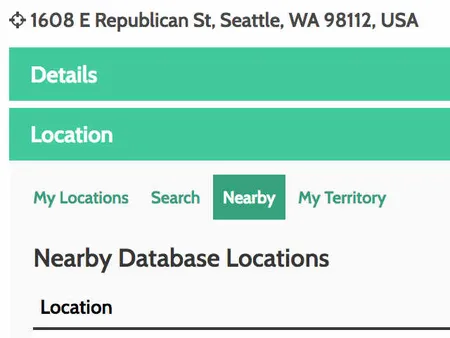 Ad Hoc & Guerrilla Scheduling
Allow staff users to create their own executions on the fly, or schedule staff for multi-stop guerrilla events.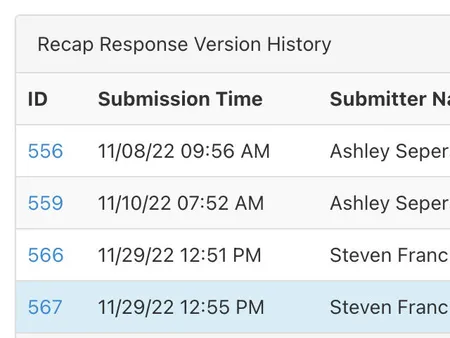 Auditing
In-depth logging and monitoring that tracks and records the actions performed by each user.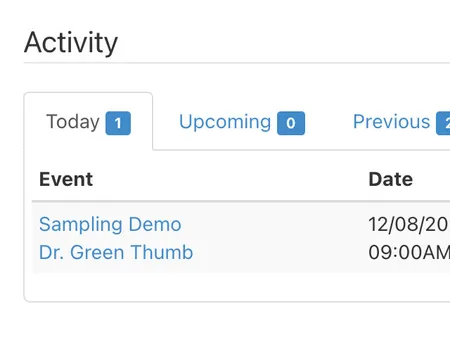 Brand Ambassador Management
Enable managers to create and track the schedules, goals, and completed activities for their field reps and brand ambassadors.
Overtime Management
Monitor the daily and weekly hours tracked for each staff user on a per state/province level. For executions that exceed a certain amount of time, automated break times are added to ensure regulations are adhered to.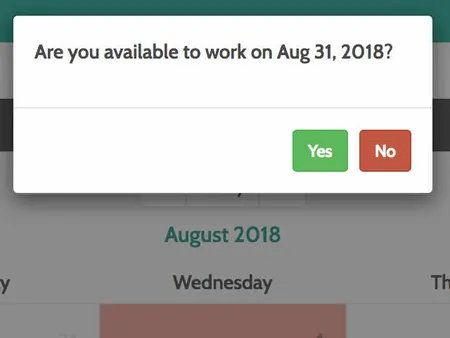 Position Availability Calendar
Users are presented with a display of all available and staffed positions, allowing them to easily identify any urgent upcoming shifts that need to be filled.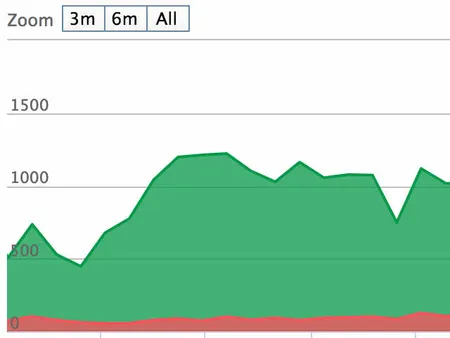 Sales Integration
Import sales data for accounts to gauge the effectiveness of an execution, event, or activity.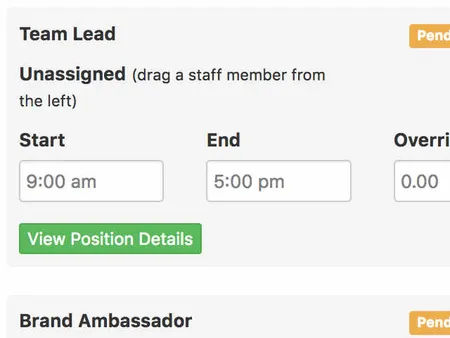 Shift Scheduling & Staffing
Staff all executions utilizing a database of approved employees. Staff can be marked as available for any activation based on market, program, or position assignments, as well as individual availability. Customizable invitation toggles allow managers to determine how their programs find the right staff member for each shift.
Applicant Onboarding
Present candidates with the option to apply for positions directly from a custom branded, white labeled site. Submissions are captured and applicants can be reviewed and approved or declined during a multi-step onboarding process.
Automatic Claims Generation
Automatic Claims Generation
Claims Management & Approval
Management users administer a payroll approval process, ensuring all time and expense claims are reviewed prior to payroll cutoff and reimbursement.
Minimum Wage Rate Management
Ability to set minimum wage rates on the country, state/province, or postal code level to ensure compliance with regulations.
Offline Application Support
Field staff users are able to view activation schedules and event details, check-in and check-out, enter recap responses, and submit claims, all while offline on the staff application.
Payroll & Third Party Integrations
Organizations that utilize ERP solutions and require the ability to integrate applications can do so for financial or reporting purposes.
Payroll Schedule Management
Based on the organization's payroll schedule, the payroll period calendar tracks the due dates for all necessary submissions, approvals, and exports for each pay period.
PDF Staff Deck
Enable profiles of staff to be exported in PDF format for presentation purposes.
Staff Skills & Certifications
Create a custom library of skills and certifications for staff to fill out in order to better connect qualified candidates with new opportunities.