Automated Reports Save Time and Keep You in the Know
The data you collect in MainEvent flows directly to your inbox or third party solution.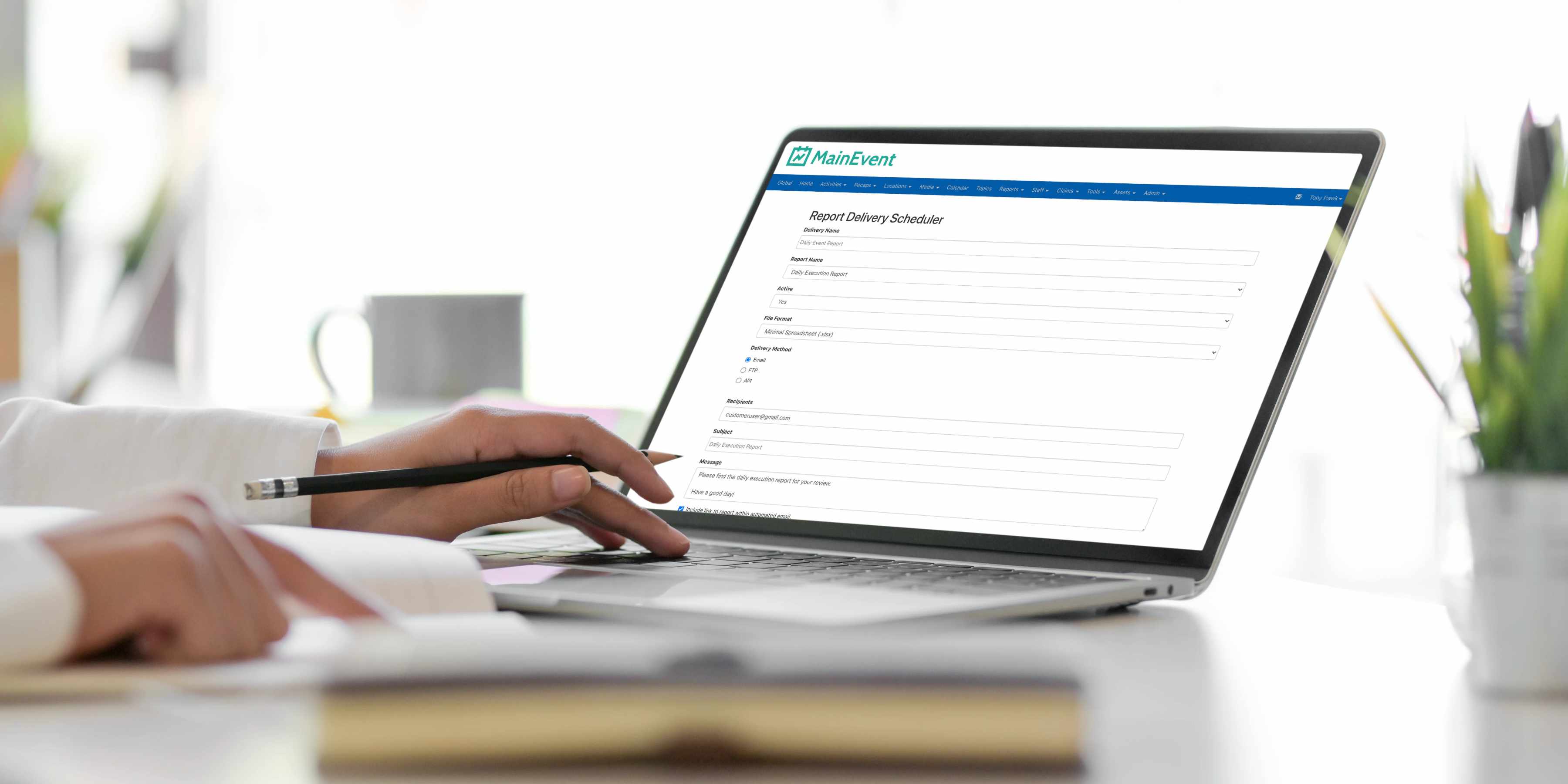 Building meaningful, in-depth Reports has historically been a painstaking process.
Customers need to not only create great Reports, but adjust them over time to accommodate new requests. You may also need to export the Report and email it to customers and colleagues based on a specific cadence (be it daily, weekly, or monthly).
This process used to take quite a bit of time - but not anymore.
With MainEvent's Automated Report Builder, you'll eliminate the manual steps involved, without sacrificing the quality of data delivered. With significantly less effort, you can still provide the necessary analysis in the format that your customers and colleagues require.
Key Functionality of Automated Reporting
Dynamically generated Reports for any data stored in MainEvent (Executions, Staff, Accounts, Assets, Recaps, Surveys, sales data , and third-party integrations)
Configuration settings for field order, frequency, and filters to deliver Reports based on unique customer requirements
Multiple options for Report output formats (Excel, PDF, CSV)
API and FTP drop capabilities to simplify integrations with third-party platforms
Auditing capabilities to ensure receipt of all Report deliveries
Here's how it works.
1. Create and Configure Your Reports
Define the names of the fields, ordering, and filters - anything you store in MainEvent can be included.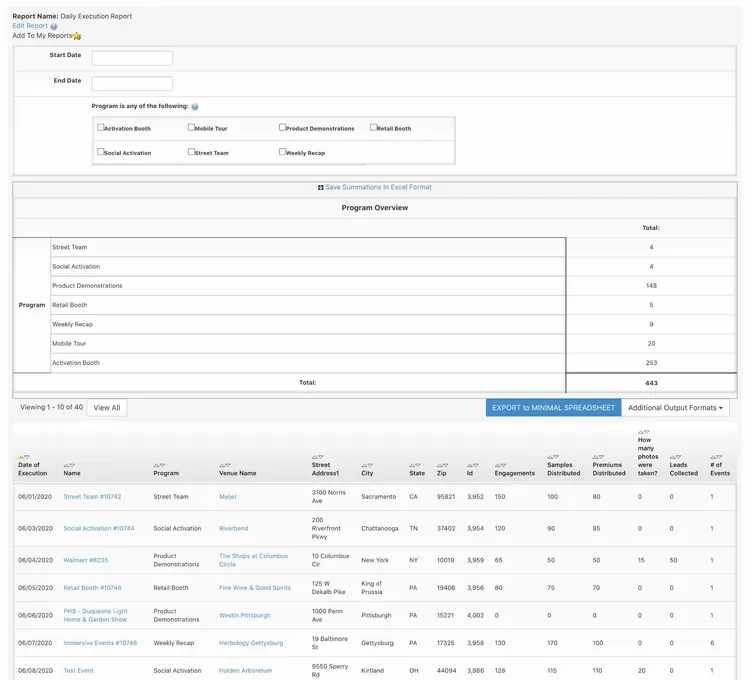 2. Set Up the Delivery Scheduler
Once the Report is established, the Delivery Scheduler allows you to define:
Who receives the Reports,
The frequency of delivery (daily, weekly, monthly),
Method of delivery (email, API, FTP), and
Format (Excel, PDF).
Configuration settings allow adjustments to be made over time (e.g, adding/removing recipients, or changing frequencies).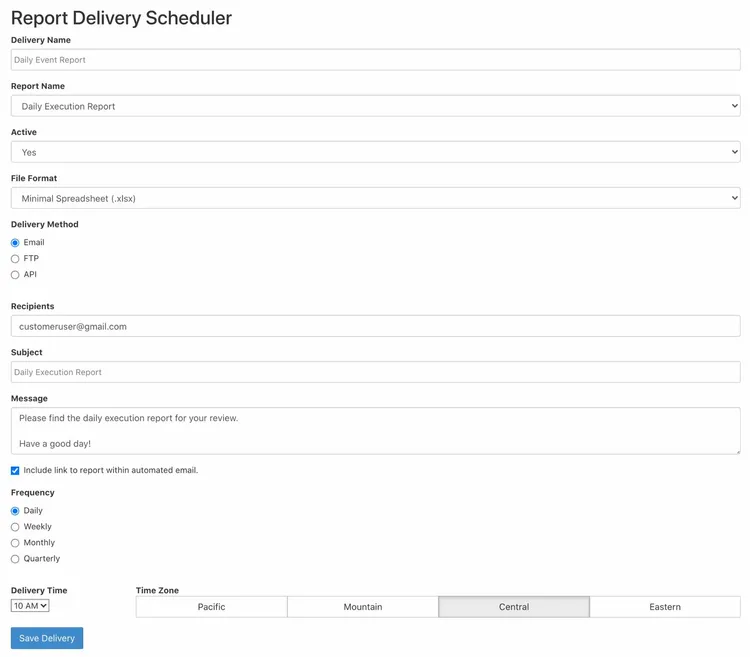 3. Enjoy & Audit Your Reports
The delivery system takes care of the rest. An auditing feature allows you to check all report deliveries, and see the content of what was delivered, along with the recipients of each report.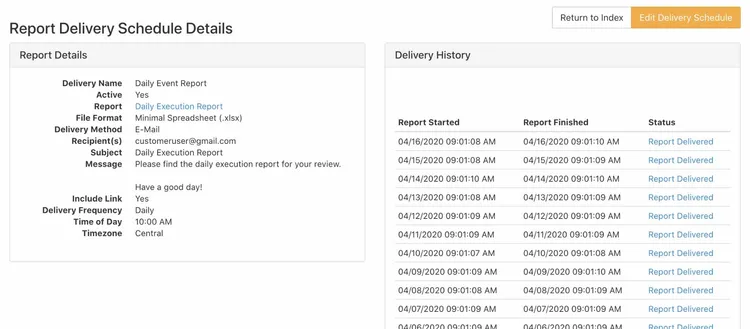 Integrations Take Reports Even Further
In addition to automated reporting, the module provides capabilities for integrations by API or FTP files. A simple creation and configuration process allows you to send data from MainEvent to any third party solution for reporting, payroll, and sales integrations.
The Net Results
The burden to build and deliver Reports is removed! You are the commander of your data delivery domain. Reduce overhead and please the masses - reporting has never been this easy.
Want to see MainEvent's Automated Reports in action? Hit us up for a demo today.