KraftHeinz Case Study
The Wienermobile & Nutmobile programs are legendary in the Mobile/Experiential world. Scheduling, supporting, & providing outcomes for them is essential.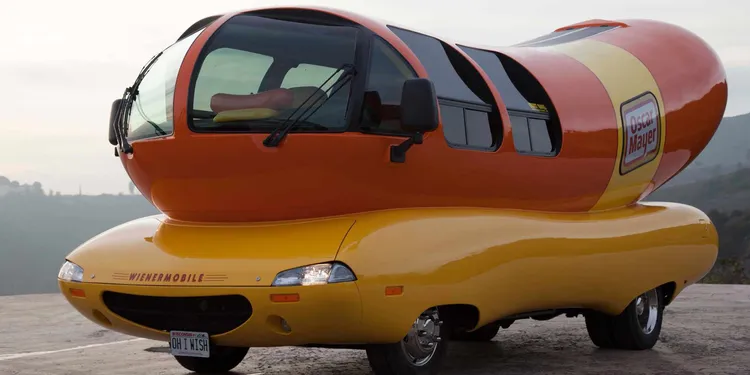 There are no more recognizable vehicles on the roads of America than KraftHeinz's 27-foot long Wienermobile and 26-foot long Nutmobile. These supersized hotdogs and peanuts are perhaps the most iconic mobile tours in the industry. KraftHeinz trusts MainEvent to schedule, organize, recap, and provide analysis for these well-loved campaigns.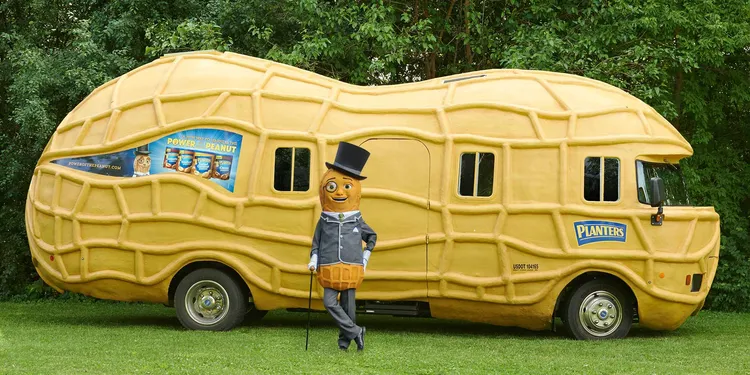 Six teams of Hotdoggers and three teams of Peanutters relentlessly motor across the country, attending hundreds of events annually, meeting tens of thousands of fans and customers. The popular vehicles are also requested at thousands of locations each year.
Managing all these teams, events, requests, communication, and data collection isn't easy. The KraftHeinz team knew it was a tough nut to crack, but they mustered their crew together and worked with the folks at MainEvent to design a software application that empowered them to handle it all.
With MainEvent working behind the scenes, KraftHeinz is able to...
Schedule and manage thousands of consumer and KraftHeinz employee event requests
Provide branded, consumer facing microsites to display routing, upcoming visits, and general information about each tour
Support the routing and logistics of each vehicle and scheduled visits
Evaluate event success with customizable data collection and reporting from each execution
Leverage historical data to help evaluate the likely success of requested events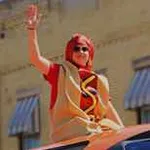 The Development Approach
The team at KraftHeinz are experts at many many things, including branding and execution. They wanted to be able to spend more of their time focusing on what they do best, and less time staring at spreadsheets to manage event scheduling, requesting approvals, vehicle routing, and data collection.
They asked for a turnkey solution that would let them manage a complex tour with an easy interface, integrate with a public-facing tour tracking system, and provide a way to receive and approve event requests from both consumers and employees.
Operating one of the longest-running and most successful mobile tours in the world, the team at KraftHeinz knew how they needed the process to work. We took a collaborative approach, listening to their requirements and mapping out a plan to leverage the tools built in to MainEvent. We also built some new features specially suited to these tours. The result was a public-facing set of microsites that are tightly coupled with MainEvent data to meet all the KraftHeinz tour requirements.
Microsites
A consumer facing website allows visitors to view pertinent information about each tour and access upcoming stops - they can even request a visit right to their door from their phone or computer. The Wienermobile and NUTMobile microsites were designed to the KraftHeinz brand requirements, complementing the look and feel of the official brand pages. The microsites let consumers:
Access upcoming tour visits based on geolocation or address search
View an interactive map to show the routing of each vehicle
Request visits from the Wienermobile and NUTMobile through a mobile-friendly request form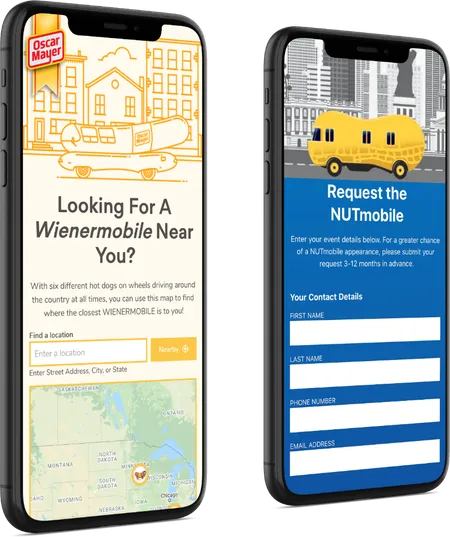 Tour Management
With the microsite fully integrated into MainEvent, the KraftHeinz team is able to immediately see requested events and approve or deny them with a single click, schedule and manage events, collect event data, and run reports.
Event Request Management - All requests from consumers and KraftHeinz employees funnel directly to MainEvent. Based on availability and distance required to travel, the KraftHeinz team evaluates each request and approves or denies it with a single click, automatically triggering the appropriate emails.
Automated Notifications - For event approvals, updates, and changes, an automated email/SMS feature provides pertinent parties with relevant event information.
Dashboards and Calendars - Managers and tour operators can view schedules and key event details in configurable dashboards and calendars.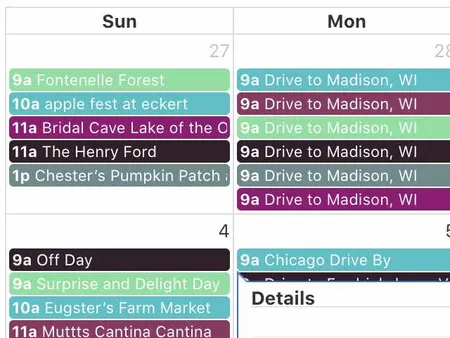 Tour Management
After every completed tour stop, a tour operator can submit both qualitative and quantitative details, along with photos and videos about the experience. The event summary information can be aggregated into reports and dashboards, enabling the team at KraftHeinz to make more informed planning decisions and provide timely, detailed insights about the tour's success. Using the MainEvent reporting tools they can:
Provide in depth analysis of each visit with recap summaries, photos and videos
Aggregate and filter data by event type, market, region, or other metrics
Leverage past event data to make informed decisions about potential tour stops and event requests
The Wiener & Still Champion (the results!)
The KraftHeinz team now has a solution in place to measure and manage all aspects of their mobile tours. From requests and approvals, to notifications and analysis, every part of their tours are covered in one place. They can leverage all the data they collect running hundreds of events a year to help them continue to do what they do best: provide a fun and memorable experience to the millions of visitors that love their brands.
P.S. The KraftHeinz/MainEvent application even helps lovebirds make their dreams come true. When news of a Hotdogger using the Wienermobile for a wedding proposal went viral in the summer of 2020, the Wienermobile request site saw more than 60 wedding proposal requests arrive in little more than a week!
Frankly, we couldn't be happier.